Solar jobs now outnumber oil jobs in the U.S.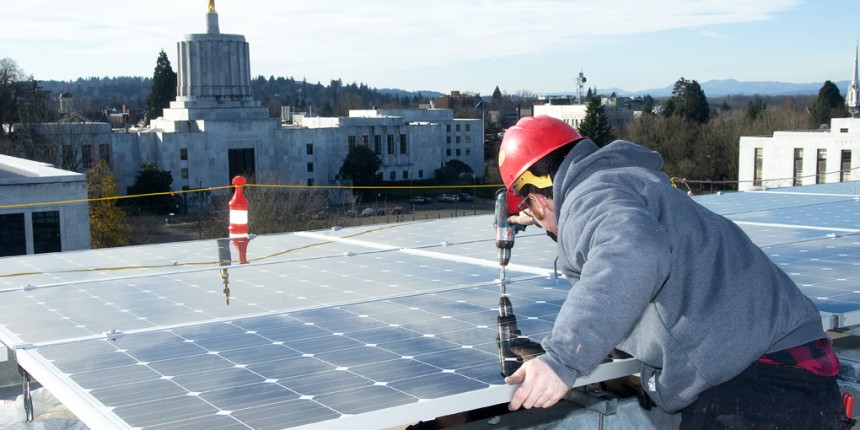 The Solar Foundation recently published the National Solar Jobs Census 2015, its yearly update of current employment, job trends, and growth projections in the U.S. solar industry.
The analysis revealed that the U.S. solar industry is adding workers at a remarkable clip — solar accounts for 1.2 percent of all jobs created in the U.S. in the past year and solar job growth is occurring 12 times faster than in the economy overall.
solar employment is UP >20% for the 3rd consecutive year! https://t.co/xIDhZhQAnS pic.twitter.com/wQani7rUCO

— The Solar Foundation (@solarfound) January 12, 2016
Big growth for solar employment, now and in the immediate future
According to The Solar Foundation, the solar industry employs 208,859 solar workers as of November 2015, which year-over-year increase of 20.2 percent from November 2014. In the next 12 months, total solar employment is projected to reach 239,625.
Other key findings:
The solar installation sector is the largest in solar employment, accounting for 119,931 of the 208,859 jobs.
The solar installation sector grew 24 percent year over year and by 173 percent from 2010.
One of 83 new jobs created in the U.S. since The Solar Foundation's 2014 Census was a solar industry job.
Solar jobs > oil jobs
With the overall number of U.S. solar jobs now hitting nearly 209,000, the solar industry now trumps the oil industry, as the oil industry accounted for just 185,000 jobs as of December 2015.
The solar industry added approximately 35,000 jobs in 2015, while employment in the oil industry actually dropped — from a high of 199,000 jobs in January 2015 to 183,000 that following December.
US Solar Industry Provides More Jobs Than Oil and Gas Extraction https://t.co/XiWz80Uvw0

— Greentech Media (@greentechmedia) January 12, 2016
Source → The Solar Foundation